MARSPORT
You have successfully landed at Marsport!
Navtex message logging, retrieval and display for use with stand-alone receiver.
Version 2.4, 4 November 2008 by GM4PMK.


SMD

The SMD Codebook: an index of surface mount device codes, data, pin-outs and equivalents.
Last update 24 August 2015.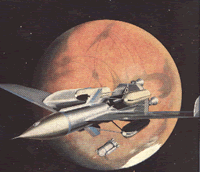 The image above, and that of the Mars base at the top of the page, are paintings by Chesley Bonestell, illustrations from a book 'The Exploration of Mars' by Willy Ley and Werner von Braun (1956). (c) Bonestell Space Art, used by permission. see http://www.bonestell.org for more of his space art.
Comments or suggestions for changes, are welcome. Please send them to me at : marsport@marsport.org.uk
73 Roger GM4PMK

Page last updated 10 December 2015.