MARSPORT
You have successfully landed at Marsport!
Dubus Magazine

English language webpages of DUBUS magazine.
Issue 3/16 was published and mailed to subscribers on 6 September.
The latest technical article compendium,Technik 15 is now available.
UK subscriptions and Technik book orders can now be made via PayPal.



Observatory

Near real-time Auroral (SAM) Magnetometer, weather data and webcam from my location on the Isle of Mull.
Experimental SID (Sudden Ionspheric Disturbance) Monitor page.

GM4PMK

Details of my amateur radio station - HF, 6 m, 4 m and 23 cm EME from IO66xj.

VNA4Win

Software for the N2PK Vector Network Analyser by GM4PMK and GM3SEK.
Final Version 1.3d 01 September 2008.

SQ

SQ the QRA square database program (see DUBUS 3/04).
Version 2.70, 17 March 2014 now supports adif V2 and edi log file import.

Navtex message logging, retrieval and display for use with stand-alone receiver.
Version 2.4, 4 November 2008 by GM4PMK.


WinAtt



Attenuator calculator utility for Windows. Results in E6, E12 or E24 values.
Version 1.31, 10 October 2008 by GM4PMK.



The SMD Codebook: an index of surface mount device codes, data, pin-outs and equivalents.
Last update 24 August 2015.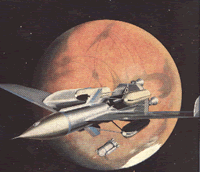 The image above, and that of the Mars base at the top of the page, are paintings by Chesley Bonestell, illustrations from a book 'The Exploration of Mars' by Willy Ley and Werner von Braun (1956). (c) Bonestell Space Art, used by permission. see http://www.bonestell.org for more of his space art.
Comments or suggestions for changes, are welcome. Please send them to me at : marsport@marsport.org.uk
73 Roger GM4PMK

Page last updated 08 September 2016.